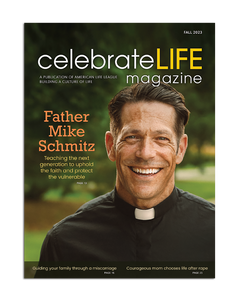 CLM Fall 2023 FREE Download
In the Fall issue of Celebrate Life Magazine, we read words of wisdom from Fr. Mike Schmitz, weep with families who have lost children, learn effective words to say to an abortion-minded mother, see the immense blessing of adoption, and more. It is our hope that these articles not only strengthen your pro-life beliefs but that they help you find ways to evangelize to those in your family and communities.
PDF download, 36 pages
You can also read and share all of our feature articles from clmagazine.org.
NOTE: After completing your order, a download link for your free PDF(s) will be sent via email. Please be sure to enter a valid e-mail address (not a phone number) when checking out.