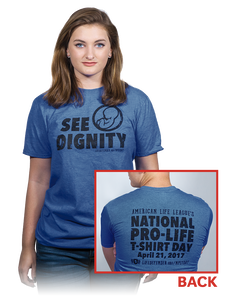 2017 NPLTD See Dignity T-shirt
CLEARANCE PRICE!  While supplies last.
The official National Pro-Life T-shirt Day design from 2017.
National Pro-Life T-shirt Day is a national day of action throughout the US where people of all ages wear a pro-life T-shirt to school, to work, or in their communities to show their love and support for life.
The event empowers and enables all participants—even the most timid—to speak up on behalf of the preborn.
 Shirt is pre-shrunk 35% ringspun cotton and 65% polyester