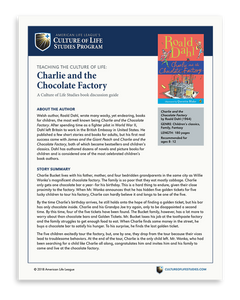 Book Discussion Guide: Charlie and the Chocolate Factory by Roald Dahl (FREE Download)
Charlie Bucket lives with his father, mother, and four bedridden grandparents in the same city as Willie Wonka's magnificent chocolate factory. The family is so poor that they eat mostly cabbage. Charlie only gets one chocolate bar a year—for his birthday. This is a hard thing to endure, given their close proximity to the factory. When Mr. Wonka announces that he has hidden five golden tickets for five lucky children to tour his factory, Charlie can hardly believe it and longs to be one of the five.
Recommended for ages 8-12
Contents include:
Complete story summary
Teacher notes and discussion guide
Life Theme
Books used in this lesson:
NOTE: After completing your order, a download link for your PDF(s) will be sent via email. Please be sure to enter a valid e-mail address (not a phone number) when checking out.