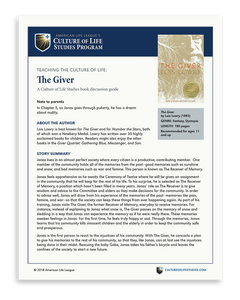 Book Discussion Guide: The Giver by Lois Lowry (FREE Download)
Jonas lives in an almost perfect society where every citizen is a productive, contributing member. As Jonas awaits his Ceremony of Twelve, where he will be given an assignment in the community, he is apprehensive. To his surprise, Jonas is selected as The Receiver of Memory, the adviser of the Committee and the elders of the Community. In order to advise well, Jonas will draw from his experience of the memories of the past—memories like pain, famine, and war—so that the society can keep these things from ever happening again. When Jonas discovers a dreadful secret about the society, he must make a difficult decision in order to save his community. The Giver is the first book in the Giver Quartet.
Recommended for ages 11 and up
Contents include:
Complete story summary
Teacher notes and discussion guide
Life Theme
Books used in this lesson:
NOTE: After completing your order, a download link for your PDF(s) will be sent via email. Please be sure to enter a valid e-mail address (not a phone number) when checking out.