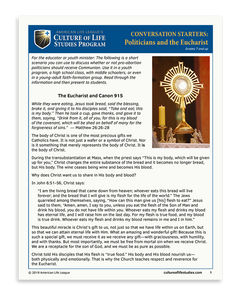 Conversation Starter: Politicians and the Eucharist (Download)
Helping YOU start conversations about morality in a culture that can be confusing for teens to navigate  
Is it okay for a pro-abortion Catholic politician to receive Communion?

Is it okay for a priest to deny Communion to a public figure whose pro-abortion stance is well known?

Are there other instances in Church history where public figures were denied Communion for grave reasons?

What can you as a young person do to help influence pro-abortion politicians?
In this 6-page mini-lesson, students will learn about Canon 915 and the importance of the Eucharist. Plus, they will see examples from current events and past Church history that not only engage them in conversations about LIFE, but that will make them think.
______________________________________________________________
Introducing Conversation Starters!
Easy to use for parents, pastors, teachers, and youth ministers

Helps initiate important conversations with today's teens

Relevant to the lives of teens and young adults today

Created with the help of experts across the country

Just click to download your Conversation Starter today!
This Conversation Starter is 6 pages long and comes with a short scenario; questions (and answers!) to get the conversation going; and background information for the instructor, parent, or ministry leader.

NOTE: After completing your order, a download link for your PDF(s) will be sent via email. Please be sure to enter a valid email address (not a phone number) when checking out.