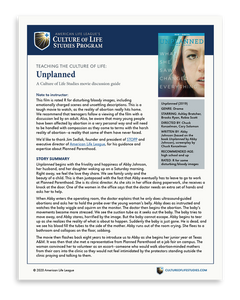 Movie Discussion Guide: Unplanned (FREE Download)
We teamed up with expert Jim Sedlak, president of STOPP and executive director of American Life League to provide you and your students with this engaging and dynamic discussion guide. And it's an instant download so you can start using it today!
Our newest downloadable movie discussion guide is 8 pages and includes a brief overview of the movie Unplanned, a Life Theme, 14 discussion questions (and answers!), suggestions for a small group/discussion project, optional essay questions, and activities for further research. Help your teen truly come to an understanding of the movie and of the reality of abortion. Then prepare teens to articulate and defend their position. 
It is rated R for mature thematic content, including emotionally charged and unsettling scenes depicting the harsh reality of both chemical and surgical abortion. This is a tough movie to watch, as the reality of abortion really hits home. We recommend that teenagers do not view this movie alone and have an adult present who is ready and willing to talk with them about the movie.
You can rent or purchase the movie here: Unplanned
NOTE: After completing your order, a download link for your PDF(s) will be sent via email. Please be sure to enter a valid e-mail address (not a phone number) when checking out.