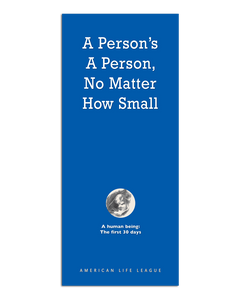 A Person's a Person, No Matter How Small
Inaccurate science leads to the dehumanizing of preborn babies. From the moment the sperm fertilizes the egg, a new human being is created and begins growing exponentially each day. Containing a scientifically accurate and descriptive illustration of a baby's development, this brochure not only takes you on a five-week journey with the baby as you watch him grow, but it identifies the language used by some in the scientific community who strive to obfuscate the truth about when a human being's life truly begins—a tactic that results in more abortions and more dead babies.
Brochure.
NOTE: When ordering, add this item to your cart and then select the quantity of brochures you would like. The discount will automatically be applied in the cart.