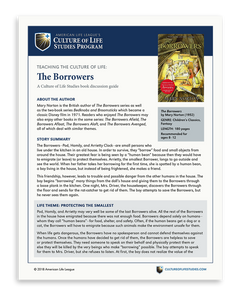 Book Discussion Guide: The Borrowers by Mary Norton (FREE Download)
The Borrowers—Pod, Homily, and Arrietty Clock—are small persons who live under the kitchen in an old house. In order to survive, they "borrow" food and small objects from around the house. Their greatest fear is being seen by a "human bean" because then they would have to emigrate (or leave) to protect themselves. Arrietty, the smallest Borrower, longs to go outside and see the world.
When her father takes her borrowing for the first time, she is spotted by a human bean, a boy living in the house, but instead of being frightened, she makes a friend. This friendship, however, leads to trouble and possible danger from the other humans in the house. The boy begins "borrowing" many things from the doll's house and giving them to the Borrowers through a loose plank in the kitchen. One night, Mrs. Driver, the housekeeper, discovers the Borrowers through the floor and sends for the rat-catcher to get rid of them. The boy attempts to save the Borrowers, but he never sees them again.
Recommended for ages 8-12.
Contents include:
Complete story summary
Teacher notes and discussion guide
Life Theme
Books used in this lesson:
NOTE: After completing your order, a download link for your PDF(s) will be sent via email. Please be sure to enter a valid e-mail address (not a phone number) when checking out.