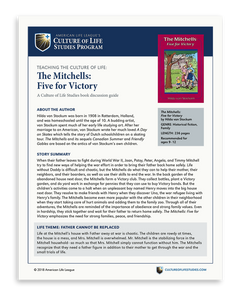 Book Discussion Guide: The Mitchells: Five for Victory by Hilda van Stockum (FREE Download)
When their father leaves to fight during World War II, Joan, Patsy, Peter, Angela, and Timmy Mitchell try to find new ways of helping the war effort in order to bring their father back home safely. Life without Daddy is difficult and chaotic, but the Mitchells do what they can to help their mother, their neighbors, and their boarders, as well as use their skills to end the war. In the back garden of the abandoned house next door, the Mitchells form a Victory club. They collect bottles, plant a Victory garden, and do yard work in exchange for pennies that they can use to buy Victory bonds. But the children's activities come to a halt when an unpleasant boy named Henry moves into the big house next door. They resolve to make friends with Henry when they discover Una, the war refugee living with Henry's family.
The Mitchells become even more popular with the other children in their neighborhood when they start taking care of hurt animals and adding them to the family zoo. Through all of their adventures, the Mitchells are reminded of the importance of obedience and strong family values. Even in hardship, they stick together and wait for their father to return home safely. The Mitchells: Five for Victory emphasizes the need for strong families, peace, and friendship.
Recommended for ages 9-12.
Contents include:
Complete story summary
Teacher notes and discussion guide
Life Theme
Books used in this lesson:
NOTE: After completing your order, a download link for your PDF(s) will be sent via email. Please be sure to enter a valid e-mail address (not a phone number) when checking out.