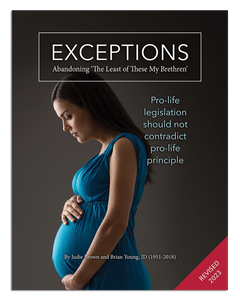 Exceptions: Abandoning 'The Least of These My Brethren' (Download)
UPDATED FOR 2023 with 8.5 x 11 format!
Should pro-life principle be compromised to make advances in pro-life legislation? In this booklet, Judie Brown and Bring Young tackle a dangerous distinction between principle and pragmatism in the pro-life movement, a distinction that leads to erroneous exceptions, loopholes, and traps. Compromising pro-life principle for pro-life legislation is a lose-lose game for both morality and the common good.
PDF download, 17 pages.
NOTE: After completing your order, a download link for your PDF(s) will be sent via email. Please be sure to enter a valid e-mail address (not a phone number) when checking out.