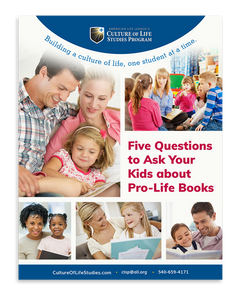 Five Questions to Ask Your Kids about Pro-Life Books (FREE Download)
You want to talk about pro-life themes with your kids, but where do you start? These five questions are your blueprint to a good conversation and the starting points for talking about pro-life themes with your children no matter what book you are reading with your family.
This 10-page guide is recommended for kindergarten and older.
Contents include:
How to find a life theme
Examples of life themes from popular books
Five questions to ask your kids about pro-life books
If you have any questions, please contact Susan Ciancio at clsp@all.org.

NOTE: After completing your order, a download link for your PDF(s) will be sent via email. Please be sure to enter a valid email address (not a phone number) when checking out.