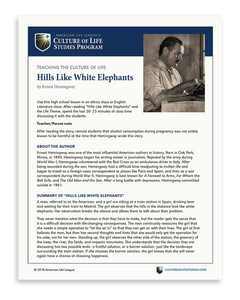 Free e-Lesson Hills Like White Elephants by Ernest Hemingway (Download)
Colored by Hemingway's own European travels, Hills Like White Elephants" tells the story of a conversation between a man and girl in a train station in rural Spain. As they discuss their relationship, which seems to be on the point of ending, Hemingway slowly reveals that the problems they face come their disagreement about whether or not the girl should have an abortion.

Hemingway is a master of sparse language—a literary technique which attempts to create more meaning in a story by saying less. The lack of explanation in "Hills Like White Elephants" helps the reader concentrate on the couple and their conversation.

Our short lesson on "Hills Like White Elephants" guides high school students through the deeper meaning and elements of the story, while pointing out a culture of life interpretation of its themes.

In the lesson, students discuss the plot, characters, setting of the story and how these elements relate to the story's theme and overall message.

Contents include:

Complete story summary
Teacher notes and discussion questions
Catholic Connections
NOTE: After completing your order, a download link for your PDF(s) will be sent via email. Please be sure to enter a valid e-mail address (not a phone number) when checking out.