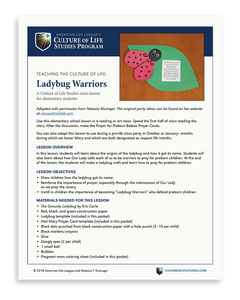 Free e-lesson Ladybug Warriors (Download)
Have you ever wondered, "Where do ladybugs come from?" In this free lesson, elementary schoolchildren learn all about ladybugs as they listen to Eric Carle's The Grouchy Ladybug. In a discussion following the story, students learn about how the ladybug is really named for the Blessed Mother, who sent ladybugs to help Medieval peasants by keeping their crops free of other insects and pests. The peasants knew that Our Lady had answered their unceasing prayers when the industrious little red bugs appeared, so they named the bugs as Mary's red army of warriors—ladybugs.
Children also learn about how we can be warriors for Our Lady and pray for the protection of all preborn babies. Children make a ladybug craft, learn about the rosary, and pray a prayer of spiritual adoption for a preborn baby. Throughout the lesson, we have provided links and ideas for how to turn this educational opportunity into a children's party with a special focus on Our Lady, the rosary, and spiritual adoption. This lesson is a great way to introduce even very young children to the concept of spiritual adoption and praying for preborn babies by reminding them that they too can be warriors for Our Lady.
Contents Include
Teacher notes, discussion questions, and craft instructions
Craft template
Bonus coloring page
NOTE: After completing your order, a download link for your PDF(s) will be sent via email. Please be sure to enter a valid e-mail address (not a phone number) when checking out.