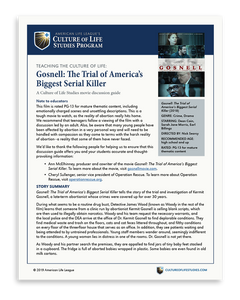 Movie Discussion Guide: Gosnell: The Trial of America's Biggest Serial Killer (FREE Download)
We teamed up with producer and cowriter Ann McElhinney of the gosnellmovie.com and Cheryl Sullenger from OperationRescue.org to provide you and your students with this engaging and dynamic discussion guide.
This film tells the story of the trial and investigation of Kermit Gosnell, a late-term abortionist whose crimes were covered up for over 30 years.
Given our current climate, the recent abortion law passed in New York, and the fact that other states are moving to pass equally abhorrent laws, this movie is a must see for anyone serious about helping to bring an end to abortion.
It is rated PG-13 for mature thematic content, including emotionally charged scenes and unsettling descriptions. This is a tough movie to watch, as the reality of abortion really hits home. We recommend that teenagers follow a viewing of the film with a discussion led by an adult.
The guide also includes follow-up activities that can be used in private or in group settings. For anyone asking "What can I do to help stop abortion?" watching this movie and using this study guide are important steps.
Our other discussion guides are free of charge, but producing them is not free for us. If you have benefitted from this or one of our other guides, please consider a donation to American Life League's Culture of Life Studies Program so we can continue to help you educate and inspire young people and adults across the globe.
NOTE: After completing your order, a download link for your PDF(s) will be sent via email. Please be sure to enter a valid e-mail address (not a phone number) when checking out.