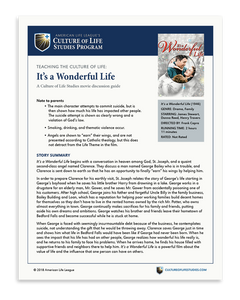 Movie Discussion Guide: It's a Wonderful Life (1946) (FREE Download)
It's a Wonderful Life shows just how much ordinary people and everyday heroes can affect their community. The film opens with a conversation in heaven among God, St. Joseph, and a quaint second-class angel named Clarence. They discuss a man named George Bailey who is in trouble, and Clarence is sent down to earth so that he has an opportunity to finally "earn" his wings by helping him. In order to prepare Clarence for his earthly visit, St. Joseph relates the story of George's life starting in George's boyhood.

George continually makes sacrifices for his family and friends, putting aside his own dreams and ambitions. When George is faced with seemingly insurmountable debt because of the business, he contemplates suicide, not understanding the gift that he would be throwing away. Clarence saves George just in time and shows him what life in Bedford Falls would have been like if George had never been born. It's a Wonderful Life is a powerful film about the value of life and the influence that one person can have on others.

Recommended for junior high school and up.

Contents include:

Complete story summary
Teacher notes and discussion guide
Life Theme
NOTE: After completing your order, a download link for your PDF(s) will be sent via email. Please be sure to enter a valid e-mail address (not a phone number) when checking out.