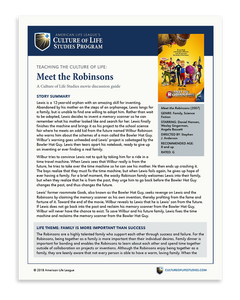 Movie Discussion Guide: Meet the Robinsons (FREE Download)
Lewis is a 12-year-old orphan with an amazing skill for inventing. Abandoned by his mother on the steps of an orphanage, Lewis longs for a family, but is unable to find one willing to adopt him. Rather than wait to be adopted, Lewis decides to invent a memory scanner so he can remember what his mother looked like and search for her. Lewis finally finishes the machine and brings it as his project to the school science fair where he meets an odd kid from the future named Wilbur Robinson who warns him about the schemes of a man called the Bowler Hat Guy. Wilbur's warning goes unheeded and Lewis' project is sabotaged by the Bowler Hat Guy. Meet the Robinsons is a charming story about the importance of family.
Recommended for middle school and up.
Contents include:

Complete story summary
Teacher notes and discussion questions
Life Theme
NOTE: After completing your order, a download link for your PDF(s) will be sent via email. Please be sure to enter a valid e-mail address (not a phone number) when checking out.