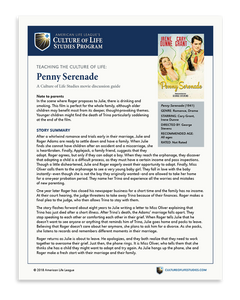 Movie Discussion Guide: Penny Serenade (1941) (FREE Download)
After a whirlwind romance and trials early in their marriage, Julie and Roger Adams are ready to settle down and have a family. When Julie finds she cannot have children after an accident and a miscarriage, she is heartbroken. Finally, Applejack, a family friend, suggests that they adopt. Roger agrees, but only if they can adopt a boy. When they reach the orphanage, they discover that adopting a child is a difficult process, as they must have a certain income and pass inspections. Though a little disheartened, Julie and Roger eagerly await their opportunity to adopt. Finally, Miss Oliver calls them to the orphanage to see a very young baby girl. They fall in love with the baby instantly—even though she is not the boy they originally wanted. Penny Serenade is a bittersweet story of adoption, family, and power of love.
Recommended for the whole family.
Contents include:

Complete story summary
Teacher notes and discussion questions
Life Theme
NOTE: After completing your order, a download link for your PDF(s) will be sent via email. Please be sure to enter a valid e-mail address (not a phone number) when checking out.