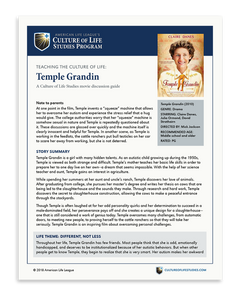 Movie Discussion Guide: Temple Grandin (FREE Download)
Temple Grandin is a girl with many hidden talents. As an autistic child growing up during the 1950s, Temple is viewed as both strange and  difficult. Temple's mother teaches her basic life skills in order to prepare her to one day live on her own—a dream that seems impossible. With the help of her science teacher and aunt, Temple gains an interest in agriculture. While spending her summers at her aunt and uncle's ranch, Temple discovers her love of animals.
After graduating from college, she pursues her master's degree and writes her thesis on cows that are being led to the slaughterhouse and the sounds they make. Through research and hard work, Temple discovers the secret to slaughterhouse construction, allowing the cows to make a peaceful entrance through the stockyards. Though Temple is often laughed at for her odd personality quirks and her determination to succeed in a male-dominated field, her perseverance pays off and she creates a unique design for a slaughterhouse— one that is still considered a work of genius today.
Temple overcomes many challenges, from automatic doors, to meeting new people, to proving herself to the cattle ranchers so that they will take her seriously.  Temple Grandin is an inspiring film about overcoming personal challenges.
Recommended for middle school and up.
Contents include:

Complete story summary
Teacher notes and discussion questions
Life Theme
NOTE: After completing your order, a download link for your PDF(s) will be sent via email. Please be sure to enter a valid e-mail address (not a phone number) when checking out.