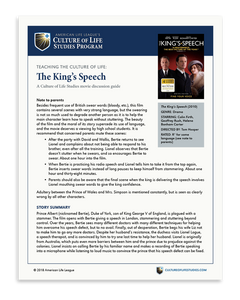 Movie Discussion Guide: The King's Speech (FREE Download)
Prince Albert (nicknamed Bertie), Duke of York, son of King George V of England, is plagued with a stammer. Over the years, Bertie sees many different doctors with many different techniques for helping him overcome his speech defect, but to no avail. Despite her husband's resistance, the Duke's wife visits Lionel Logue, a speech therapist, and is convinced by him to try one last time to help her husband. The King's Speech is an inspiring film about friendship, determination, and overcoming disabilities.
Recommended for upper high school and college. 
Contents include:

Complete story summary
Teacher notes and discussion guide
Life Theme
NOTE: After completing your order, a download link for your PDF(s) will be sent via email. Please be sure to enter a valid e-mail address (not a phone number) when checking out.