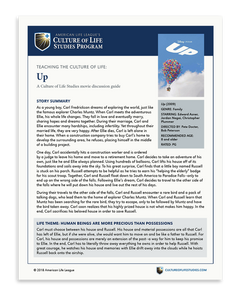 Movie Discussion Guide: Up (FREE Download)
As a young boy, Carl Fredrickson dreams of exploring the world, just like the famous explorer Charles Muntz. When Carl meets the adventurous Ellie, his whole life changes. They fall in love and eventually marry, sharing hopes and dreams together. During their marriage, Carl and Ellie encounter many hardships, including infertility. Yet throughout their married life, they are very happy. After Ellie dies, Carl is left alone in their home. When a construction company tries to buy Carl's home to develop the surrounding area, he refuses, placing himself in the middle of a building project.
One day, Carl accidentally hits a construction worker and is ordered by a judge to leave his home and move to a retirement home. Carl decides to take an adventure of his own, just like he and Ellie always planned. Using hundreds of balloons, Carl lifts his house off of its foundations and sails away into the sky.
To his great surprise, Carl finds that a little boy named Russell is stuck on his porch. Russell attempts to be helpful as he tries to earn his "helping the elderly" badge for his scout troop. Together, Carl and Russell float down to South America to Paradise Falls—only to end up on the wrong side of the falls. Through the adventures of Carl and Russell, Up subtly teaches the important lesson that human beings are worth more than material possessions.
Recommended for middle school and up.
Contents include:

Complete story summary
Teacher notes and discussion questions
Life Theme
NOTE: After completing your order, a download link for your PDF(s) will be sent via email. Please be sure to enter a valid e-mail address (not a phone number) when checking out.