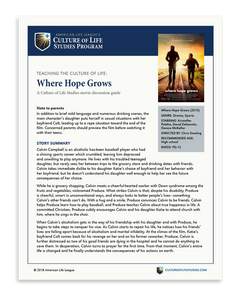 Movie Discussion Guide: Where Hope Grows (FREE Download)
Calvin Campbell is an alcoholic has-been baseball player who had a shining sports career which crumbled, leaving him depressed and unwilling to play anymore. He lives with his troubled teenaged daughter, but rarely sees her between trips to the grocery store and drinking dates with friends. Calvin takes immediate dislike to his daughter Katie's choice of boyfriend and her behavior with her boyfriend, but he doesn't understand his daughter well enough to help her see the future consequences of her choice.
While he is grocery shopping, Calvin meets a cheerful-hearted worker with Down syndrome among the fruits and vegetables, nicknamed Produce. What strikes Calvin is that, despite his disability, Produce is cheerful, smart in unconventional ways, and always looks to better people's lives—something Calvin's other friends can't do. With a hug and a smile, Produce convinces Calvin to be friends. Calvin helps Produce learn how to play baseball, and Produce teaches Calvin about true happiness in life. Where Hope Grows is a story of power of friendship and the importance of reaching out to a friend in need.
Recommended for high school and up.
Contents include:

Complete story summary
Teacher notes and discussion questions
Life Theme
NOTE: After completing your order, a download link for your PDF(s) will be sent via email. Please be sure to enter a valid e-mail address (not a phone number) when checking out.