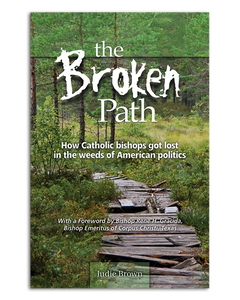 The Broken Path
Renowned pro-life leader Judie Brown was appointed twice by Pope John Paul II and again by Pope Benedict XVI to the Pontifical Academy for Life. In her bold new book, The Broken Path, Brown addresses both the political intrigue in the hierarchy of America's Catholic Church and the challenges faced by modern Catholics in this great nation.
Neither Truth nor The Broken Path is always flattering: contemporary Catholic leaders in the Church, worthy of praise, are singled out as are others warranting greater scrutiny. But most importantly, Judie Brown shows each of us how we can have a positive impact for the glory of God and the integrity of the Catholic Church.
The Broken Path is a work of love for the Church: a must read for every Catholic with the desire to return our nation to a righteous path and our society to a culture of life.
ISBN 1-4507-9669-9
Paperback book, 269 pages.